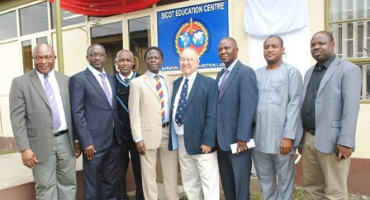 The SICOT Education Centre is a focal point for stimulating and improving education in Orthopaedic Surgery and Traumatology. It is a physical entity in a university or hospital that will assist in the education of orthopaedic trainees and continuing the knowledge of orthopaedic surgeons.
It is one of the most important objectives of SICOT in providing orthopaedic education to countries where it is most needed. Applications to set up such a centre should be made through the SICOT National Representative and are welcome all year at [email protected].


An Education Centre can only be created with the full agreement and financial support of the university and/or hospital authorities. They will also provide the physical infrastructure, furnishings, computers and maintenance. SICOT will assist in providing educational materials as well as visiting lecturers. Fellowships will be given to trainees from the Education Centre to visit international institutes of excellence and to trainees from abroad to be trained at the Education Centre.
The first SICOT Education Centre was launched on 19 January 2004 in Lahore, Pakistan. A fellowship programme was instituted between Lahore and Belgium. This was as the result of the untiring effort of Professor Maurice Hinsenkamp. The programme lasting four years provided six months' postgraduate fellowships at Brussels University as well as for PhD students from Lahore. More details are available in the February 2007 issue of the SICOT newsletter (No. 103).
The second centre was opened in Assiut, Egypt on 19 December 2009. Assiut University has two fellowship programmes with the cooperation of SICOT and the SICOT Foundation. The first is a fellowship for young African postgraduates to do a three to six months' training programme at Assiut. The second was a four-year programme with Würzburg University in Germany, which provides biannual fellowships for trainees from Assiut for a period of six months at Würzburg University. More details are available in the February 2010 issue of the SICOT Newsletter (No. 121).
The official inauguration of the SICOT Education Centre at the M.F. Vladimirskiy Moscow Regional Clinical and Research Institute (MONIKI) in Moscow took place on 28 April 2011. It was inaugurated by Prof Onoprienko Gennadiy Alekseevich, Director of MONIKI, Prof Voloshin Victor Parfentevich, Chief Orthopaedist and Traumatologist of the Moscow Region, Prof Cody Bünger, President of SICOT, and Prof Tomas Trc, SICOT Vice President for Europe. Read more...
A new SICOT Education Centre was launched in January 2015 in Muscat, Oman and was visited by Dr Kandiah Raveendran. The Khoula Hospital will welcome yearly three young surgeons for a duration of twelve weeks, with subspecialities in arthroplasty, sports medicine, spine, reconstructive surgery, complex fractures, oncology and many others.
New centres have been approved in Lagos (Nigeria), Kampala (Uganda), Coimbatore (India), and Peking (China).