Best wishes for 2017 to you and your family from SICOT!
---
In Memoriam
Emeritus Professor Einhard H.W. Erken, a doyen of orthopaedic surgery, teacher, musician and athlete passed away on 19 September 2016. Read more...
---
Editorial by Satish Kutty

Training the Next Generation
At a recent ceremony for the presentation of Diplomates at the Royal College of Surgeons of England, Prof Michael La Quaglia was granted Admission to the Honorary Fellowship of the College. Prof Michael La Quaglia is a Paediatric Surgical Oncologist, working at the world-renowned Memorial Sloan Kettering Cancer Hospital in New York. The first line of his citation read as "Michael La Quaglia is a gifted technical surgeon, a compassionate physician and an inspirational mentor (but only an average marathon runner!)". To me "the inspirational mentor" struck a chord. His acceptance speech left a lasting impression on the audience. He wanted the next generation of surgeons to engage and seize opportunities, be innovative and lifelong learners. He could not emphasise enough though the importance of family life and work balance. These are life experiences and advices coming from a master. Read more...
---
SICOT Events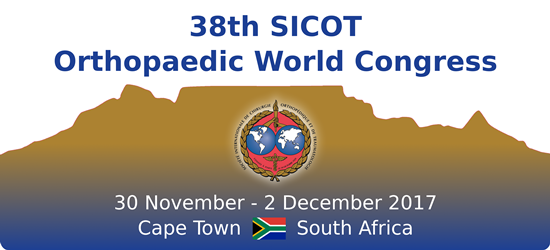 On behalf of the SICOT Congress Organising Committee, I would like to invite you to the 38th SICOT Orthopaedic World Congress from 30 November to 2 December 2017. Only for the third time on African soil, the meeting will be hosted in Cape Town, South Africa, at the most southern part of the continent.
Cape Town is the gateway to Africa and it was from here that Dr David Livingstone embarked on his explorations of the continent.
The city is a perennial favourite with visitors and locals alike. Overshadowed by the majestic Table Mountain, Cape Town offers spectacular scenery and is a renowned food and wine capital. The New York Times voted Cape Town the world's number one city to visit in 2014 and the UK's Telegraph newspaper recently voted Cape Town as the Best City in the World for the fourth consecutive year. Condé Nast Traveler magazine currently recognises Cape Town as the world's number one food city.
Participants can expect modern infrastructure, a legacy of South Africa's successful hosting of the 2010 FIFA World Cup, and opportunities to explore this compact city and its environs. Very few places offer the variety that Cape Town provides. One can enjoy a full day of the Congress and still have time to watch the sunset over the Atlantic Ocean from the top of Table Mountain. For those wishing to arrive early or extend their visit, Cape Town is directly connected to the Kruger National Park and Botswana for safaris as well as to Victoria Falls.
The academic programme promises to include world standard orthopaedics inclusive of lecture presentations and workshops for the more general orthopaedic surgeons as well as super-specialists. Internationally acclaimed invited speakers will ensure that trainees and experts will be up to date with the latest modern orthopaedic technology and evidence-based medicine.
Welcome to Cape Town!

Online abstract submission will open in January 2017.
Deadline: 15 March 2017

Online registration will open in January 2017.
*************************************************************************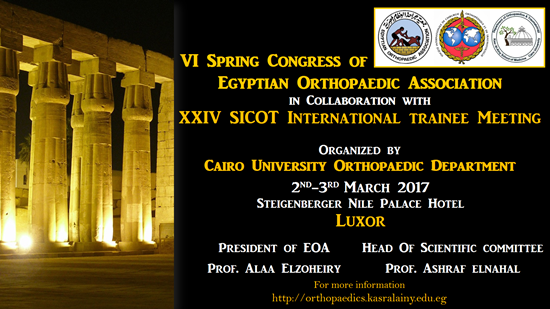 We would like to welcome you to the annual spring Egyptian Orthopaedic Association (EOA) Congress, which will be organised by the Cairo University orthopaedics department in Luxor, Egypt, on 2 and 3 March 2017, with the strong contribution of the SICOT organisation.
The EOA is one of the most active societies affiliated to SICOT. Next March, it will hold its 6th successive annual spring congress. This congress has been successfully organised for the last 5 years during the springtime in different cities, with more than 400 participants attending from all over Egypt and the Middle East area each year.
Every year the scientific content is organised by one of the universities in Egypt. This year the scientific programme will be organised by Cairo University, which is the oldest school of medicine in the whole Middle East region dating back more than 150 years.
As we are looking for the highest level of congress scientific materials, the SICOT Editorial Board members have accepted to participate strongly in our event. Not only this, we will be holding a Trainees' Meeting welcoming the contribution of the young generation of SICOT as well.
Luxor is the city of history. It is an open museum with many temples and sights that reflect the ancient Egyptians' great and interesting history. We are sure that your participation will add to our congress and you will enjoy the springtime during your stay in Luxor. For more information, please visit: orthopaedics.kasralainy.edu.eg
---

SICOT Global Network of e-Learning - SIGNEL
Article of the Month: International Orthopaedics Journal
History of external fixation for treatment of fractures
Philippe Hernigou
Surgery in the first half of the nineteenth century was primarily dominated by pain and fear of lethal infections. Therefore, the absolute majority of fractures and dislocations were treated non-operatively. Read more...

Article of the Month: SICOT-J
Periprosthetic bone density changes after MiniHip™ cementless femoral short stem: one-year results of dual-energy X-ray absorptiometry study
Ahmet Ercan, Sherif M. Sokkar, Gebhard Schmid, Timm J. Filler, Ashraf Abdelkafy and Joerg Jerosch
Introduction: The purpose of the current study was to investigate the reaction of the femur to the implantation of the MiniHipTM in terms of: (1) bone density change during one year; (2) correlations between stem length, CCD (caput-collum-diaphyseal), femoral offset, T-value, and bone density; (3) other co-variables that influence the change of bone density. Read more...
---
Expert Corner
AB-cemented Interlocking in Patients with Infected Non-Union of Lower Extremity
by Pavel Volotovski
Infected non-union means not only bacterial inflammation and impossibility of weight-bearing, but also restricted range of motion and compromised soft-tissues as a result of trauma and previous surgeries. However, treatment of such cases presents two main problems for the surgeon – infection and fracture. In the presence of infection, removal of implant is mandatory to reduce the biofilm load and thus increase the probability of permanent cure. However, to promote bone healing and achieve union we must stabilise the fracture. There are several options to choose from. Plating and nailing provide good stability, but require staged procedures and lead to high risk of repeated infection. External fixation, on the other hand, can be associated with pin site infections and soft tissue scarring by pins and wires causing muscle contractures and joint stiffness. Also, this method is not possible in non-compliant patients. In ideal circumstances, the treatment should include one-stage procedure providing good bone stability and high local concentration of appropriate antibiotic. In our institution, we use custom made locked intramedullary nails coated with PMMA-cement mixed with antibiotic. Read more...
---
Education & Training
MSK RADIOLOGY 4 U is an educational website comprising over 3,000 anonymised case studies in musculoskeletal imaging selected from the teaching files of the Royal Orthopaedic Hospital, Birmingham, United Kingdom. The cases vary from the common-o-garden to the esoteric. The emphasis is on radiographs and MRI covering all aspects of musculoskeletal disease including spinal imaging. There is also a free app which is quickly being adopted to view and share images and collaborate with other physicians. It can be downloaded here (Android) or here (iOS). Read more...
---
Training Around the World
Singapore Residency Training
by Gen Lin Foo
Orthopaedic surgery training in Singapore has undergone significant changes over the past few years with the introduction of the residency system modelled after the American Residency Program. The first intake of this new system which consists of a rigorous and structured programme started in 2010. There are currently 3 Sponsoring Institutions (SIs): National Healthcare Group (NHG), SingHealth Group and the National University Health System (NUHS) Group each offering about 5 to 8 slots per year. These SIs work closely with the American Accreditation Council for Graduate Medical Education (ACGME) to obtain accreditation for their residency programme.​ Read more...
---
Fellowship News
Report on my SICOT Fellowship in Würzburg
by Amr Eisa
It gives me great pleasure to report on my experience at König-Laudwig-Haus in Würzburg, Germany. I would confidently say that this opportunity has positively influenced me and left a wonderful impression that will stay in my memory forever. It is indeed a hard job to put together my impression in a short report. So, I would rather go through different headings to be able to cover various points and reflect on all sides of my experience. Read more...

SICOT Travelling Fellowships
Every year, SICOT offers young surgeons three-month fellowships to visit an internationally renowned orthopaedic centre. The aim is to improve knowledge and surgical skills. Application deadline: 31 December 2016 - Read more...
---
Course Appraisal
The 1st Assiut Hip Arthroscopy Cadaveric Course
by Mohammed A. Sadakah
I attended the first cadaveric hip arthroscopy course in the Middle East which took place on 11-12 October 2016 at the Assiut Arthroscopy & Sports Injuries Unit (AASIU), Assiut University, Egypt. The course was under the chairmanship of Prof Hatem Said, Assiut University and the co-chairman was Dr Ahmed Hazem, Cairo University, with a precious contribution from international faculty: Prof Richard Villar (United Kingdom), Prof Ali Bajwa (United Kingdom), and Prof Oliver Marin-Pena (Spain), in addition to a group of eminent national faculty.​ Read more...
---
Editorial Department
Editorial Secretary: Hatem Said
Associate Editors: Syah Bahari & Mohamed Sukeik
Editorial Production: Linda Ridefjord
Editorial Board: Ahmed Abdel Azeem, Bassel El-Osta & Pavel Volotovski
SICOT aisbl, Rue de la Loi 26-b.13, 1040 Brussels, Belgium
Tel.: +32 2 648 68 23 | E-mail: [email protected] | Website: www.sicot.org
---
Disclaimer: Some of the views and information expressed in this e-Newsletter include external contributors whose views are not necessarily those of SICOT. SICOT is not responsible for the content of any external internet sites.