Rıdvan Ege
Prof Rıdvan Ege sadly passed away on 8 June 2017 in Ankara, Turkey. He was a long-time member of SICOT and a genuine pioneer in orthopaedics in Turkey. He led a life dedicated to enhancing his field and educating competent surgeons. Read more...

Tomihisa Koshino
It is with deep sorrow that we announce the passing of one of the greatest knee surgeons in our country, Emeritus Professor Tomihisa Koshino of Yokohama City University in Japan. He was born on 3 April 1936. Read more...


New technologies and high-quality Orthopaedic healthcare in the Russian Far East
by Marius M. Scarlat
Russia is always impressive! By its size, by its untouched nature with breathtaking landscapes and by its great people. When you arrive from Europe after a four-hour flight to one of the Moscow airports you think you're almost there. But then you embark on a long-haul huge jet that will cross two-thirds of the country and finally land eight hours later in the Capital of the Far East region – the city of Khabarovsk. Our Russian colleagues are used to flying many hours. There are longer flights, they say. To reach mythical Kamchatka you need to fly a further three hours from Khabarovsk.... Read more...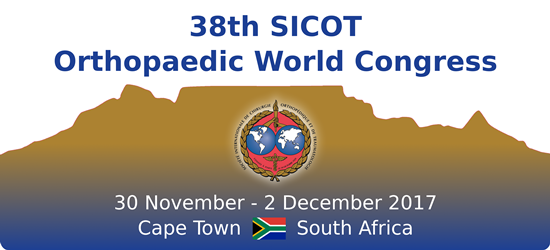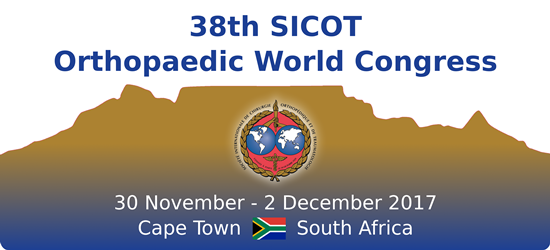 Registration
Online registration is open here. Don't miss the early registration deadline, 18 July 2017, and benefit from reduced fees!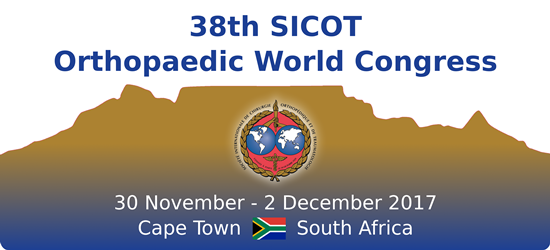 Scientific Programme
The scientific programme will include world standard orthopaedics inclusive of lecture presentations and workshops for the more general orthopaedic surgeons as well as super-specialists. Internationally acclaimed invited speakers will ensure that trainees and experts will be up to date with the latest modern orthopaedic technology and evidence-based medicine. Read more...

7th SICOT Educational Day
The aim of the Educational Day, which will be held on Wednesday, 29 November, is to provide a comprehensive review course for the residents and an evidence-based update for the practising surgeons on a specific theme at each SICOT Congress. The format of the day consists of four to six short lectures in each section followed by ample time for case discussions and debates and ample breaks. The theme for the Cape Town meeting is 'The Hip' and the day will focus on all the elements of hip surgery right from anatomy and surgical approaches to complex case discussions. Read more...

24th Cooperative Course for Polytrauma Management - Beyond ATLS
International experts in traumatology will be sharing their experience during this course which will be held on Wednesday, 29 November. By partnering with SICOT the registration fee for this year's course has been reduced to EUR 50. Read more...

Plenary Speakers
We are pleased to announce that Oheneba Boachie-Adjei, Fares Haddad, and Ashok Johari will be the plenary speakers at the SICOT Congress in Cape Town. Read more...

Partner Societies
SICOT is grateful to these societies for contributing to the scientific programme and organising symposia. Read more...

Peer Reviewers
Special thanks go to the members of the Scientific Board who kindly gave their time to review the abstracts submitted for the Congress. Read more...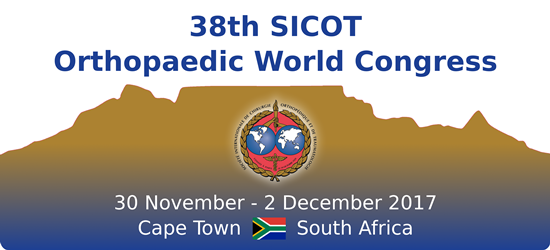 Awards
Several awards will be granted at the Congress to reward surgeons for their scientific achievement or to help young doctors attend the Congress by supporting them financially. Read more...
The SICOT Research Award Programme is a new initiative and comprises three awards of USD 2,000 each. Application deadline: 30 July 2017 - Read more...

Social Progr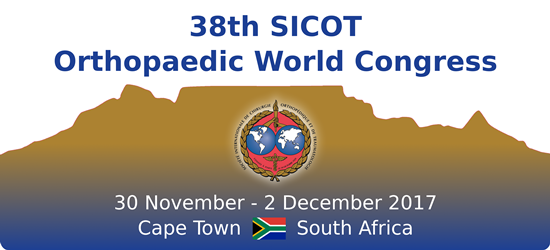 amme
Don't miss the Opening and Closing Ceremonies which will be a great opportunity to meet other orthopaedic surgeons from around the world. We are pleased to announce that Devi Prasad Shetty will be delivering the Presidential Lecture at the Opening Ceremony. Read more...

Accommodation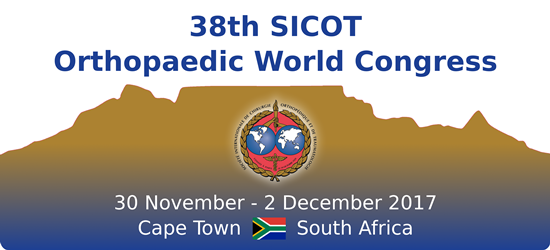 Various hotels close to the convention centre are available to delegates. Early booking is recommended. Read more...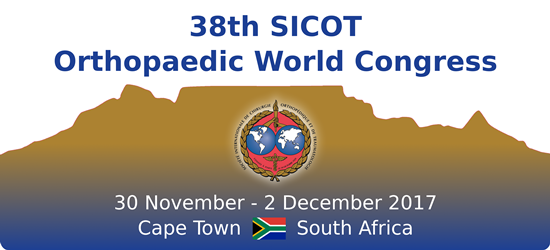 Visa & Travel Information
Visa and travel information for South Africa can be found here.
​
*************************************************************************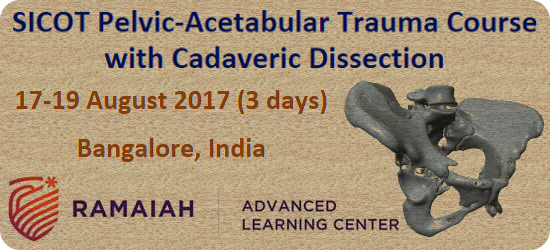 Registration deadline: 10 July 2017
It is our great pleasure to announce this educational event organised by SICOT. The theme is pelvic and acetabular injuries which are the most challenging topics in orthopaedic trauma.
The aim of the course is to provide an understanding of evaluation, emergency treatment and treatment strategies of pelvic and acetabular injuries. Our target groups are general orthopaedic trauma surgeons and surgeons preparing for further specialisation in pelvic and acetabular surgery. After the course the participant should be enabled to perform independent decision-making and emergency treatment. The course can act as a solid basis for further studies and pelvic fellowships.
We have put together an exciting programme of lectures, interactive case discussions and also cadaveric dissections. We have also selected an excellent venue in Bangalore and participants will enjoy both the educational content and the hospitality in India.
Lau Tak Wing (Hong Kong) & Sundaresh Dabir (India)
Chairpersons


Article of the Month: International Orthopaedics Journal
Patient specific instrumentation versus conventional knee arthroplasty: comparative study
Predescu V., Prescura C., Olaru R., Savin L., Botez P. & Deleanu B.
Background: The key to a successful knee replacement is restoring normal kinematics with a neutral alignment, thus a hip-knee-ankle (HKA) angle of 180° (within 3° limits). Conventional TKR is proven to have excellent results but relies in extensive visual referencing of bony landmarks. Customised cutting blocks provide accurate bone cuts, also lowering the risk of fat embolism, blood loss and operating time. Read more...

Article of the Month: SICOT-J
Management of soft tissue tumors of the upper extremity: a review
Kevin T. Jubbal, Gehaan D'Souza, Reid A. Abrams & Anna A. Kulidjian
Introduction: Management of malignant tumors of the hand and wrist is challenging and is generally approached by limb salvage or amputation. With advances in care, amputation has been superseded by limb salvage as the treatment of choice. Read more...


Wiberg angle and acetabulum-head index – are these parameters interchangeable in severe cases of Perthes disease?
by A.B. Dzemiantsou
We present a correlation analysis to establish the connection between Wiberg angle and acetabulum-head index in severe cases of Perthes disease among the patients treated by triple pelvic osteotomy and conservatively. A direct correlation of Wiberg angle and acetabulum-head index has been revealed before and after treatment. These parameters are interchangeable. This study demonstrated the high efficiency of triple pelvic osteotomy, which resulted in a significant value improvement of Wiberg angle and acetabulum-head index. Read more...


Ancient Fracture Management
by Gandhi Nathan Solayar
The ability of humans to heal broken bones has contributed to the longevity of our species. Archaeological findings have shown evidence of healed fractures in Neanderthal bones dating back to 130,000 years ago. This article briefly looks back at the various methods used to treat fractures with particular attention to what the Ancient Egyptians and Greco-Romans had in their orthopaedic repertoire. Read more...


Report on the "SICOT meets SICOT" Fellowship Programme at Fondazione IRCCS Policlinico San Matteo, Pavia, Italy
by Sunny Agarwal
It is impossible to overstate the invaluable nature of the insight I have been privileged to experience through the "SICOT meets SICOT" Fellowship Programme. All its benefits will remain a lasting legacy throughout my career and hopefully prove a boon to others in my immediate community. Read more...

SICOT/Alexandria University Training Fellowship Report
by Ilyas Abdiladif Sheikh Yusuf
I am always eager to learn and was definitely excited when I learnt I had been selected for the SICOT/Alexandria University Training Fellowship. It has been an honour for me to be the first fellow granted the SICOT/Alexandria University Training Fellowship. I arrived in Alexandria, Egypt, on 16 July 2016 and commenced the posting with an introduction to the Head of the Department on 17 July 2016. My postings involved a rotation through the 4 units in the Department. I had a special interest in trauma and took part in fixation of forearm and wrist fractures, ankle fractures, foot fractures, paediatric fractures, complex head and neck fractures of the femur, and difficult intraarticular distal humeral fractures. Read more...

Editorial Department
Editorial Secretary: Hatem Said
Associate Editors: Syah Bahari & Mohamed Sukeik
Editorial Production: Linda Ridefjord
Editorial Board: Ahmed Abdel Azeem, Bassel El-Osta & Pavel Volotovski
SICOT aisbl, Rue de la Loi 26-b.13, 1040 Brussels, Belgium
Tel.: +32 2 648 68 23 | E-mail: [email protected] | Website: www.sicot.org

Disclaimer
Some of the views and information expressed in this e-Newsletter include external contributors whose views are not necessarily those of SICOT. SICOT is not responsible for the content of any external internet sites.