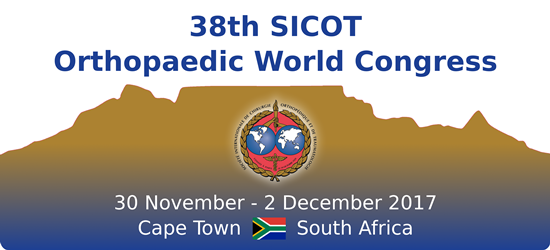 We look forward to seeing you in Cape Town!

On-site Information
Useful and important information can be found here.


Scientific Programme
The scientific programme will include world standard orthopaedics inclusive of lecture presentations and workshops for the more general orthopaedic surgeons as well as super-specialists. Internationally acclaimed invited speakers will ensure that trainees and experts will be up to date with the latest modern orthopaedic technology and evidence-based medicine.
Presentation Guidelines
Please read these guidelines before presenting your paper. Read more...

Plenary Speakers
We are pleased to announce that Oheneba Boachie-Adjei, Fares Haddad, and Ashok Johari will be the plenary speakers at the SICOT Congress in Cape Town. Read more...

Partner Societies
SICOT is grateful to these societies for contributing to the scientific programme and organising symposia. Read more...

AAOS Orthopaedic Video Theater
Peer-reviewed, high-quality, non-biased video presentations feature topics from anatomy and arthroscopy to demonstrations of cutting-edge techniques. 10 subspecialties are represented and videos from renowned experts and innovators around the globe are provided in this Video Theater in the Exhibition Hall. Read more...

Special thanks
SICOT is extremely grateful to all invited speakers, moderators and peer reviewers for their invaluable contribution to the programme.


About Cape Town
Click here to get useful information about the beautiful city of Cape Town and what it has to offer.

SICOT General Assembly
On behalf of the President of SICOT, Prof S. Rajasekaran, all SICOT members are kindly invited to attend the SICOT General Assembly during the 38th SICOT Orthopaedic World Congress in Cape Town, South Africa. The General Assembly will take place on Friday, 1 December 2017 in Auditorium II, from 13:00 to 14:00. Please note that SICOT members must have paid their membership dues in 2017 in order to have the right to vote. You can access the Agenda of the General Assembly in the SICOT Members Area.

Report of SORC 2017, under the auspices of SICOT India, held at Sir HN Reliance Foundation Hospital, Mumbai
by Vaibhav Bagaria
The 3rd Specialty Orthopaedic Review Course (SORC 2017) was successfully conducted at Sir HN Reliance Foundation Hospital in Mumbai, India, on 18 and 19 August 2017. More than 150 orthopaedic surgeons from across the country attended this course. The theme this year was 'Technique & Technology' and keeping in with the theme all the sessions and workshops were focused on educating the attendees on how the optimal use of technology when coupled with the right skills and technique can deliver optimal patient outcomes. Read more...

Report of the I International Orthopaedic Student's Conference
by Andrzej Bohatyrewicz
The I International Orthopaedic Student's Conference took place in Gdańsk, Poland, on 22 September 2017. This Conference was endorsed by SICOT. It was professionally organised by the Gdańsk Medical University Team directed by Prof Tomasz Mazurek with great support of the Polish Orthopaedic and Traumatology Society represented by the President, Professor Marek Synder, and numerous orthopaedic professors and doctors: Szymon Dragan, Łukasz Kołodziej, Łukasz Matuszewski, Andrzej Nowakowski, Rafal Pankowski, and many others. Read more...



Article of the Month: International Orthopaedics Journal
Prevention of fracture-related infection: a multidisciplinary care package
by Metsemakers WJ, Onsea J, Neutjens E, Steffens E, Schuermans A, McNally M, Nijs S
Fracture-related infection (FRI) remains a challenging complication. It may result in permanent functional loss or even amputation in otherwise healthy patients. For these reasons, it is important to focus attention on prevention. In treatment algorithms for FRI, antibiotic stewardship programmes have already proved their use by means of a multidisciplinary collaboration between microbiologists, surgeons, pharmacists, infectious disease physicians and nursing staff. Read more...

Article of the Month: SICOT-J
An evidence-based evaluation on the use of platelet rich plasma in orthopedics – a review of the literature
by Nasir Hussain, Herman Johal and Mohit Bhandari
Within orthopedics, the use of platelet-rich plasma (PRP) has been rapidly increasing in popularity, however, its true effectiveness has yet to be fully established. Several studies find that injecting PRP to the site of injury does not provide any significant benefit with respect to clinical outcomes; however, many others report the contrary. Read more...

Case of the Month
by Pavel Bobryk & Pavel Volotovski
A 46-year-old woman suffering from rheumatoid arthritis presented with severe pain in the cervical spine and weakness in the limbs. The pain lasted for about 6 months. Palpation of the cervical spine was painful in the area of the С2 vertebra. Spastic tetraparesis was revealed.X-ray of the cervical spine in the lateral view has shown enlargement of the atlantodental interval (ADI). MRI examination has shown anterior displacement of the C1 vertebra and stenosis of the spinal canal.
Q: What is your provisional diagnosis for this patient? Read more...


How I do a Medial Patello-Femoral Ligament (MPFL) Reconstruction for Recurrent Patella Instability
by Gandhi Nathan Solayar
Recurrent patella instability may stem from a multitude of various factors. It is important for the surgeon to recognise that one solution may not fit all presentations. There are over a hundred different surgical methods described covering a range of bony to soft tissue procedures to address this issue. Read more...

Does the extent of introduction of mesh titanium implants into vertebral bodies influence the result of anterior spondylodesis in patients with lumbar spine fractures?
by Pavel Volotovski & A.N. Mazurenko
During the last ten years, different kinds of implants have been used more and more often in patients with trauma and diseases of various parts of the vertebral column. The aim of this study is to analyse the position of the mesh titanium implant after surgery and in the post-operative period in patients with unstable lumbar fractures of the vertebrae. Read more...


The Journal of Rheumatology

First published in 1974, The Journal of Rheumatology is a monthly international serial edited by Earl D. Silverman. With the support of our esteemed Editorial Committee and Editorial Board, The Journal features peer-reviewed research articles on clinical subjects from scientists working in rheumatology and related fields, as well as proceedings of meetings as supplements to regular issues. Read more...
Antoon Schlösser
We are very sorry to inform you of the death of Ton Schlösser (SICOT member, Treasurer WOC, etc) who passed away 28 August 2017 after complications following a Whipple procedure for pancreatic cancer. Read more...

Editorial Department
Editorial Secretary: Hatem Said
Associate Editors: Syah Bahari & Mohamed Sukeik
Editorial Production: Linda Ridefjord
Editorial Board: Ahmed Abdel Azeem, Bassel El-Osta, Gandhi Solayar & Pavel Volotovski
SICOT aisbl, Rue de la Loi 26-b.13, 1040 Brussels, Belgium
Tel.: +32 2 648 68 23 | E-mail: [email protected] | Website: www.sicot.org

Disclaimer
Some of the views and information expressed in this e-Newsletter include external contributors whose views are not necessarily those of SICOT. SICOT is not responsible for the content of any external internet sites.