---
Editorial by S. Rajasekaran - SICOT President

SICOT Project - "Let's Pledge to Give"
SICOT is the largest and truly International Orthopaedic Association of the world with members from nearly 127 countries. I am glad that our Society is growing from strength to strength. Our annual meetings are improving steadily not only in attendance but also in quality and standards. Although the primary aim of SICOT is to promote academics and learning amongst its members, it should also serve as a vehicle to carry the best of modern orthopaedic surgery to those who deserve it most. It would be fruitless if we improve in academics and techniques but the benefit does not reach the patients who need it. The rich expertise and experience of SICOT members should reach those who deserve the best of orthopaedic care but who cannot afford it. Read more...
---
SICOT Events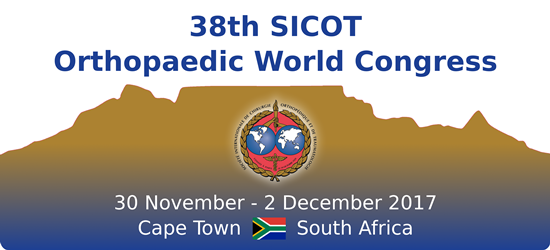 *************************************************************************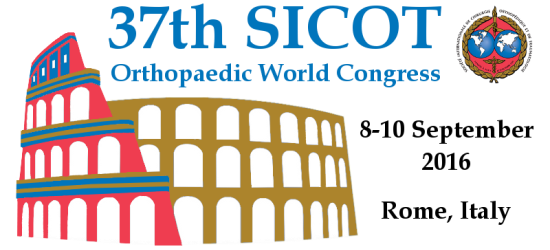 SICOT thanks all delegates for their participation in the Rome Congress!
Read more about the Congress in the next issue of the SICOT e-Newsletter.
Congratulations to all awardees who were granted a prize at the Congress. A full list of winners can be found here. Photos of the awardees at the Closing Ceremony are available here.

​SICOT also congratulates the following successful candidates of the 14th Diploma Examination held on 8 and 9 September:
Imran Ali
Abdulhannan Ashraf
Adrian Jesmond Cassar-Gheiti
Sudhir Kumar Chowdhary
Husam Elbana
Ahmed Medhat Elkhashab
Prasad Ellanti
Ahmed Elsaka
Sameh Fayez Fahim Girgis
Samir Hakeem
Mohammad Omairul Haque Israr
Rakesh John
Mohamed Kamal
Niaz Hussain Keerio
Vishesh Khanna
Prasoon Kumar
Naveen Lokikere

Subramaniam Macherla Haribabu
Mithun Manohar
Saqeb Mirza
Obiora Nonso Muoghalu
Niranjanan Raghavn Muralidharagopalan
Theophil Chunteng Nana
Oliver Ptallah
Bhaskara Kanakeshwar Raja
Akash Saraogi
Ahmed Shaat
Harsh Singh
Pratham Surya
Kar Hao Teoh
Terin Thomas
Abhishek Vaish
Arul Jothi Vaithilingam
Venkata Vakamallu
Naveen Lokikere and Akash Saraogi were granted the German SICOT Fellowships, offering them the opportunity to visit well-known German orthopaedic centres for a period of four weeks. The fellowships are kindly provided by the German Section of SICOT.
Photos of the successful candidates at the Closing Ceremony are available here.
*************************************************************************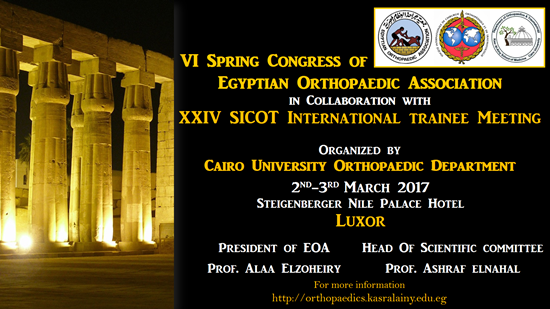 We would like to welcome you to the annual spring Egyptian Orthopaedic Association (EOA) Congress, which will be organised by the Cairo University orthopaedics department in Luxor, Egypt, on 2 and 3 March 2017, with the strong contribution of the SICOT organisation.
The EOA is one of the friendliest and the most active societies affiliated to SICOT. Next March, it will be its 6th successive annual spring congress. This congress has been successfully organised for the last 5 years during the springtime in different cities, with more than 400 participants from all over Egypt and the Middle East area each year.
Every year the scientific content is organised by one of the universities. This year the scientific programme will be organised by Cairo University, which is the oldest school of medicine in the whole Middle East region dating back to more than 150 years.
Looking for the highest level of congress scientific materials, the SICOT Editorial Board members have accepted to participate strongly in our event. Not only this, we will be holding a Trainees Meeting welcoming the contribution of the young generation of SICOT as well.
Luxor is the city of history. It is an open museum with many temples and sights that reflect the ancient Egyptians' great and interesting history. We are sure that your participation will add to our congress and you will enjoy the springtime during your stay in Luxor. For more information, please visit: orthopaedics.kasralainy.edu.eg
---
SICOT News
New members of the SICOT Executive Committee
SICOT welcomes Shanmuganathan Rajasekaran as its new President for the 2016-2018 term. It also congratulates John Dormans on having been voted to the position of President-Elect by the International Council and Philippe Hernigou as the new Treasurer. Hatem Said and Vikas Khanduja have also been nominated as new members at large of the Executive Committee.

Report on the First SICOT Course on Pelvic and Acetabulum Injuries with Cadaveric Dissection
This was the first pelvic acetabular trauma course organized by SICOT. This event was held during 17-19 August 2016 at Siriraj Hospital in Bangkok, Thailand. This venue was chosen due to the availability of facilities for cadaveric dissection. Dr Kongkhet Riansuwan and I were Co-Chairpersons for this course. We were also glad to have Hans-Christoph Pape, David Chua, Kein Boon Poon, Christian Fang, Tak Wing Lau and Xiang Zhou as overseas faculties. Likit Rugpolmuang and Theerawoot Tharmviboonsri joined as local faculties.​ Read more...

SICOT is pleased to announce its patronage for the IOC World Conference on Prevention of Injury & Illness in Sport to be held from 16 to 18 March 2017 in Monaco. SICOT members will be able to benefit from a special discount on the registration fee and only pay EUR 500 instead of EUR 650 for the 3 days. Members who are interested in attending the conference should contact [email protected]. The conference programme can be found here. Read more...
---

SICOT Global Network of e-Learning - SIGNEL
Article of the Month: International Orthopaedics Journal
Previous arthroscopic repair of femoro-acetabular impingement does not affect outcomes of total hip arthroplasty
Ryan Charles, Scott LaTulip, James A. Goulet, and Aidin Eslam Pour
Background: Total hip arthroplasty (THA) is commonly elected following failed arthroscopic treatment of femoro-acetabular impingement (FAI). The purpose of this study was to evaluate post-operative outcomes of primary THA in patients who had previously undergone arthroscopic treatment for FAI. Read more...

Article of the Month: SICOT-J
An epidemiological survey of tumour or tumour like conditions in the scapula and periscapular region
Zeeshan Khan, Adam M. Gerrish and Robert J. Grimer
Introduction: The scapula is not an uncommon site for bone and soft tissue tumours and can be difficult to delineate on examination. Furthermore, these lesions can be potentially challenging to biopsy due to its close anatomical relationship with important structures. We present an epidemiological survey of all the scapular and periscapular lesions presenting to our institution. Read more...
---
Expert Corner
How I do a Hexapod Circular Frame
by Hemant Sharma
Although circular frames were widely used in Soviet Russia in the 1960s, they only reached the west in 1981. Carlo Mauri, an Italian adventurer suffered with an infected non-union of his tibia despite multiple surgeries. He subsequently travelled to Kurgan in Russia and underwent surgery by Prof Ilizarov achieving tibial union with resolution of the infection. He in turn introduced the Ilizarov technique to Italian surgeons, who visited Kurgan and invited Prof Ilizarov to Italy to demonstrate the Ilizarov technique. In the western world, the results reported from Soviet Russia were initially looked at with complete disbelief. However, the circular frame was gradually adopted by a group of surgeons who used it as a last resort for selected cases. Read more...
---
Training Around the World
Training in the Republic of Belarus
by Pavel Volotovski
​The Republic of Belarus is a beautiful country located in the Eastern Europe between Russia and Poland. We are proud of our lakes, forests, castles and, of course, traditional cuisine. There are about 9.5 million people living in Belarus and 579 of them are orthopaedic surgeons. Read more...
---
Fellowship News
2016 SICOT International Travelling Fellowship Report
by Jiong Jiong Guo
It was a great honour to go for an overseas training in 2016 as a recipient of the SICOT International Travelling Fellowship. I received one-month training at the Centre Orthopédique Santy, a FIFA Medical Centre of Excellence. Read more...

New Lagos National Orthopaedic Hospital/SICOT Fellowship
Every year, SICOT offers 2 surgeons a three-month fellowship to the National Orthopaedic Hospital in Lagos (Nigeria). The accommodation and a monthly allowance will be offered by the National Orthopaedic Hospital. The travel expenses will be reimbursed by SICOT up to EUR 1,000. This hospital's subspecialties are Arthroplasty/Orthopaedics, Oncology and Paediatrics. The Fellowship will take place between January and November of each year. Read more...

New PKU Shenzhen Hospital/SICOT Fellowship
Every year, SICOT offers 10 surgeons a one- to two-month fellowship at the Peking University Shenzhen Hospital in Shenzhen (China). The Peking University Shenzhen Hospital will provide accommodation in a 4-bed dormitory. Should this be unacceptable, the Peking University will help search for other accommodation. The Peking Hospital will also provide the fellow with a daily allowance of RMB 200. The travel expenses will be reimbursed by SICOT up to EUR 1,000. This hospital's subspecialties are spine surgery (3 places), sports medicine & rehabilitation (3 places), hand & microsurgery (3 places), and joint surgery (1 place). Read more...
---
Industry News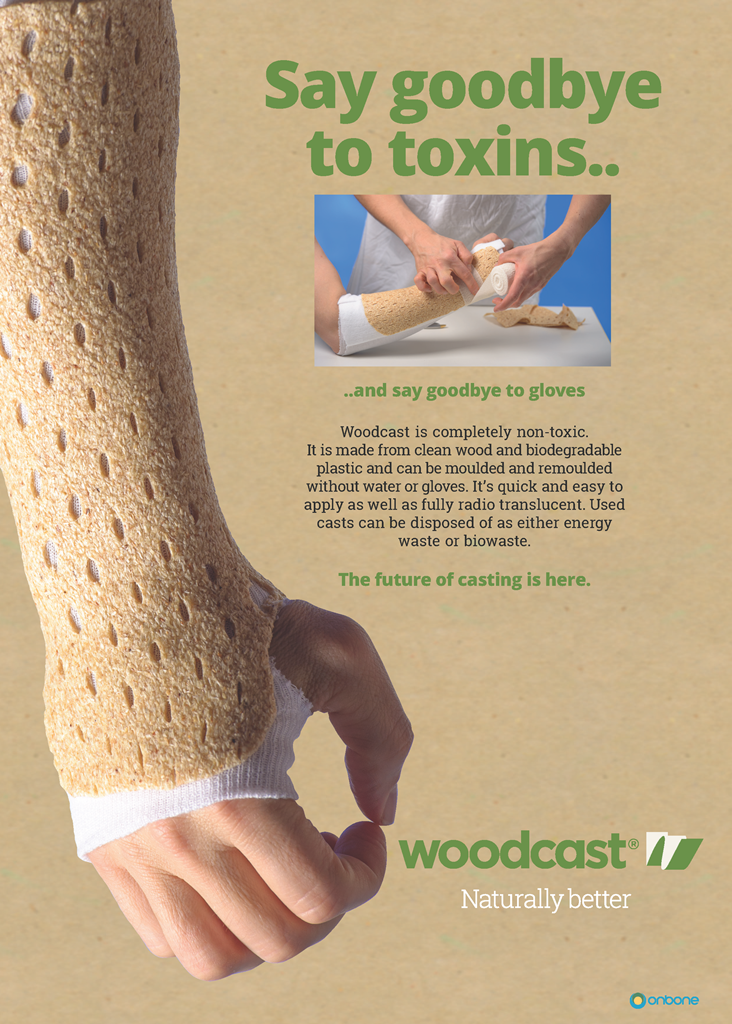 ---
Editorial Department
Editorial Secretary: Hatem Said
Associate Editors: Syah Bahari & Mohamed Sukeik
Editorial Production: Linda Ridefjord
Editorial Board: Ahmed Abdel Azeem, Bassel El-Osta & Alexander McLawhorn
SICOT aisbl, Rue de la Loi 26-b.13, 1040 Brussels, Belgium
Tel.: +32 2 648 68 23 | E-mail: [email protected] | Website: www.sicot.org
---
Disclaimer: Some of the views and information expressed in this e-Newsletter include external contributors whose views are not necessarily those of SICOT. SICOT is not responsible for the content of any external internet sites.