Jennifer Green (Australia)
SICOT Active Member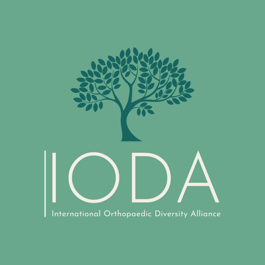 What is the International Orthopaedic Diversity Alliance (IODA)?
IODA is a global collaboration to improve the inclusion of women and under-represented minorities in orthopaedics. The organisation was founded in 2019 inspired by the work of Kristy Weber, the first female President of AAOS, PC Chye, the fourth female President of the Malaysian Orthopaedic Association (and current President of the ASEAN Orthopaedic Association) and Anthony "AJ" Johnson, Chair of the AAOS Diversity Advisory Board. The Australian Orthopaedic Association (AOA) launched its Diversity Strategy in 2018 and as the Chair of the AOA Orthopaedic Women's Link (OWL), my intense curiosity about orthopaedic diversity initiatives lead to connections across the globe.
Why is diversity in orthopaedics so important?
Diversity of the health workforce is an imperative to improve healthcare equity. Evidence shows that under-represented minorities experience better health outcomes when treated by doctors who look like them. The reasons are complex and may include issues of communication, trust, representation in health organizations & unconscious bias. Orthopaedic studies have shown that men with the same degree of osteoarthritis are between 3 and 22 times as likely to be offered a knee replacement as women. Such statistics are concerning.
Diverse organizations (greater than 30% diverse members) attract the top talent, are more innovative and make better decisions. Unless future orthopaedic surgeons are selected from the entire talent pool, orthopaedics is missing out on many talented doctors. Diverse organizations are also more profitable.
Who are the Members of IODA?
The 45 founding members of IODA are orthopaedic surgeons from 30 nations and 6 continents including 14 current, past and future Presidents of National Orthopaedic Associations. The IODA membership is growing rapidly and is open to all people interested in diversity in orthopaedics. Orthopaedic surgeons and trainees are voting members of IODA. Medical students, junior doctors, orthopaedic industry management/staff, orthopaedic association management/staff and orthopaedic researchers are all welcome to be involved.
Who is leading IODA?
IODA is very excited to announce our inaugural executive, led by President Kristy Weber, Immediate Past President of the AAOS & supported by a global team of orthopaedic diversity advocates.
https://www.orthopaedicdiversity.org/our-committee
What does IODA do?
IODA aims to amplify diversity in orthopaedics through:
Advocating for diversity in orthopaedics

Sharing the insights from orthopaedic diversity initiatives across the globe

Publishing papers on diversity in orthopaedic surgery – IODA has already published two articles (in the Journal of Trauma & Orthopaedics and EFORT Open Reviews).

Mentoring women & under-represented minorities into orthopaedic surgery

Assisting in diversity strategy development

Researching methods to improve diversity in orthopaedics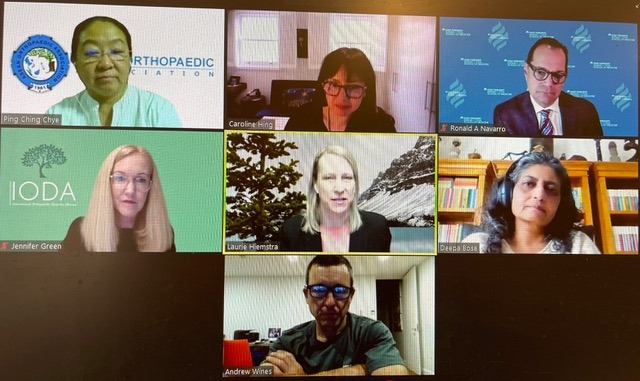 IODA First Webinar Panel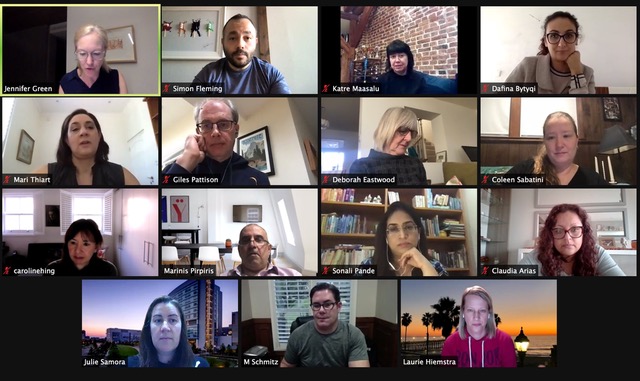 IODA First Zoom meeting
Can you elaborate on IODA's current initiatives?
IODA is collaborating with the Ruth Jackson Orthopaedic Society (US) and AMOB (Brazilian Orthopaedic Women's Society), the two largest Orthopaedic Women's Societies, to co-convene a series of Women in Orthopaedics Worldwide (WOW) Symposia. This exciting initiative shall unite all the Orthopaedic Women's Societies around the world to address the challenges and opportunities for women in orthopaedics.
IODA is collaborating with the AO Foundation, who have recently launched their own diversity strategy. The aim is to share connections, particularly orthopaedic surgeons in developing nations and promote each other's diversity educational material such as webinars.
IODA is also working with SICOT to identify stories of the achievements of women in orthopaedics for the SICOT "Women in Orthopaedics" initiative.
IODA also produces a quarterly e-newsletter sent to all members to keep everyone up-to-date with what is going on across the world in orthopaedic diversity.
How can others get involved with IODA?
Everyone is warmly welcomed to join IODA by free registration via the website. Find out what is happening in your region. Join events across the globe. Learn more about how you can advocate to advance diversity in orthopaedics. Membership allows access the "Member Resources". These resources include a curated library of articles on orthopaedic diversity subjects and an excellent collection of podcasts, interviews and webinars. You can also connect to other IODA members using the website chat and message functions.
Please visit: www.orthopaedicdiversity.org
Read more Women in Orthopaedics articles