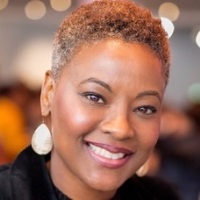 Samantha Z. Tross (United Kingdom)
SICOT Active Member
At age 7, I announced to my family that I wanted to be a surgeon when I grew up. I am not sure where that idea stemmed from. My mum was a nurse and I occasionally visited her at work, though most memories are of her at the nursing school. I am sure however my curiosity about hospitals was piqued. My maternal grandmother died at home (as did a great aunt) and no doubt facing death at an early age accompanied by an insatiable desire to read, (probably read about surgery), all helped inform my decision. My parents were very supportive of the idea as with many Afro-Caribbean parents of that generation, being a doctor, lawyer, engineer or accountant were the preferred careers. I was fortunate to excel at school and never stopped chasing my dream.
My father's work with the Commonwealth Secretariat meant that he was required to leave Guyana, my country of birth, to go to Zambia and subsequently Tanzania. Knowing that he would be moving countries during his assignment and a high regard for the British education system, meant myself and my siblings were sent to boarding school in England. The separation from my parents, having to adjust to a new culture, being away from my friends and isolated from my siblings, who were in different boarding houses, was traumatic. It was during these years though that I developed self-reliance, independence and emotional fortitude. I also developed interpersonal and communication skills, all valuable for my future career, which at times has been lonely. An early lesson that out of adversity comes strength.
I was fortunate to secure a place at University College and Middlesex School of Medicine, becoming one of two hundred students in my year and the only black female in my class. There were six black boys, five of whom were exchange students from Malawi. In the year above was a single black girl, who I later joined when I decided not to do an intercalated degree. Having gone through the boarding school experience, I do not recall feeling lonely at medical school. I particularly enjoyed being in London and being able to access the cultural diversity. Anatomy was easy for me and further cemented my desire to pursue surgery. As a student during one of my attachments, I came across my first female surgeon and she was an Orthopaedic surgeon. This was very impactful. This coupled with the fact that the Orthopaedic surgeons were the friendliest I encountered during my surgical rotations (rotated through General Surgery, Neurosurgery, Plastic Surgery, Vascular surgery and Orthopaedics), the speciality allows you to treat young, old, male and female patients, who are generally well and recover quicky and unless you work in a trauma centre, most surgery is done during sociable hours, made me pursue Orthopaedics.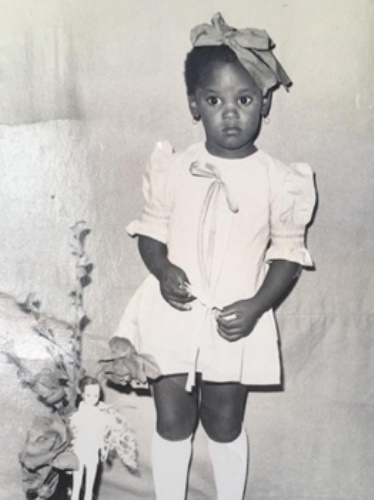 At age 3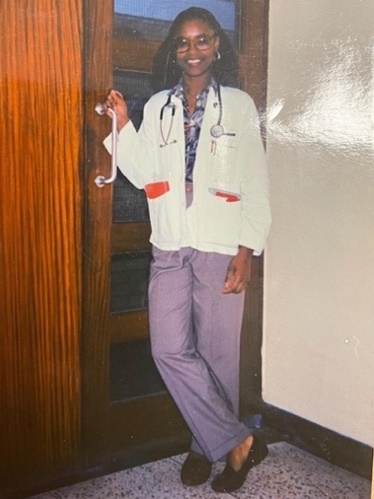 At Medical School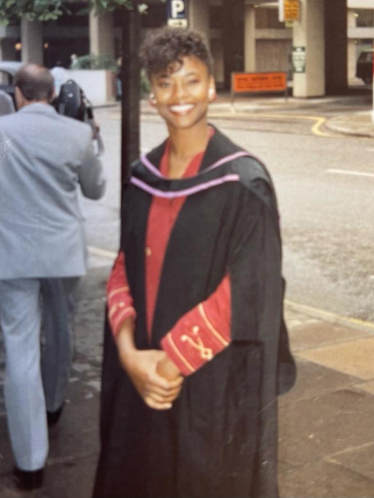 Graduation from medical school
Little did I realise that Orthopaedic surgery is the surgical speciality with the fewest number of female consultants and that on acquiring my Consultant post in 2005, I would be the first of Afro-Caribbean origin. Had I known, it would probably not have changed my mind, as once I have made a decision, I am very single minded in the pursuit of it. However, it would undoubtedly have added pressure.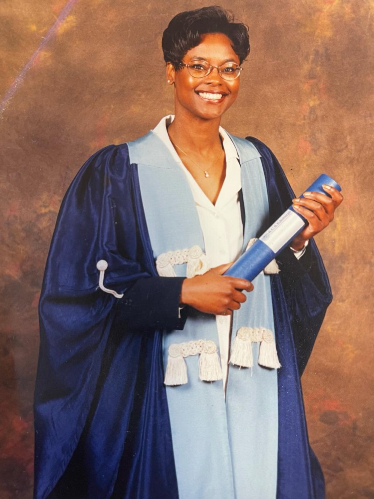 Fellowship ceremony - Royal College of Surgeons of Edinburgh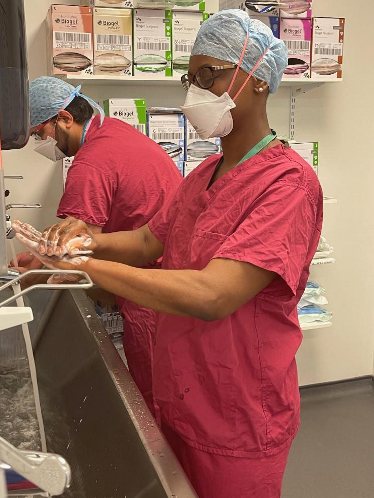 Scrubbing for surgery

During my orthopaedic training, I was the only black trainee in my region. I experienced racism and sexism but my boarding school experience and the support from mentors I acquired by my hard work and enthusiasm, helped me through. Despite the support from mentors and friends, my negative experiences began to undermine my confidence and feelings of insecurity developed. Despite my training experience being more positive than negative, with three superb white male mentors whom I will never forget, the negative experiences were more impactful on my psyche. I began to believe the orthopaedic examination was bigger than me and failed my first attempt. Having gone through the process, I realised this was not the case, enjoyed the exam the second time and was successful. As a Consultant, I still encounter racism and sexism but such occurrences are reducing. I am now more self-assured and better equipped to deal with such behaviour (I focus on internal validation rather than external and in so doing I am better at countering negativity) and society as a whole is less tolerant.
Due to my experiences, I am very involved in mentoring via various organisations; and champion diversity and inclusion. I have lectured widely on the subject and am currently involved in committees, both in the British Hip Society and Royal College of Surgeons of England to increase their diversity. I am happy to report that there are now five other black female orthopaedic consultants in the UK and growing numbers in the training programmes. I would like to think that I played some role in that by being visible and lecturing at various surgical societies. Encouragingly, the number of women overall in Orthopaedics continues to increase but still lags behind the other surgical specialities.
My career continues to go from strength to strength. I scored another first in 2018 being the first woman in Europe to perform Mako robotic hip surgery. I am currently the Lead for my department, External Examiner for the University of the West Indies Medical School in Trinidad and Associate Professor for the American University of the Caribbean. In 2019, I was invited by Mayor Sadiq Khan to give the Keynote address at the Mayor's Black History month event.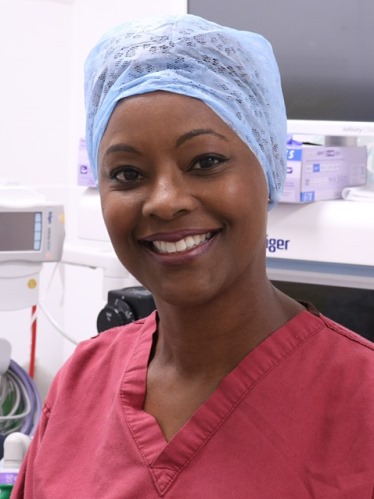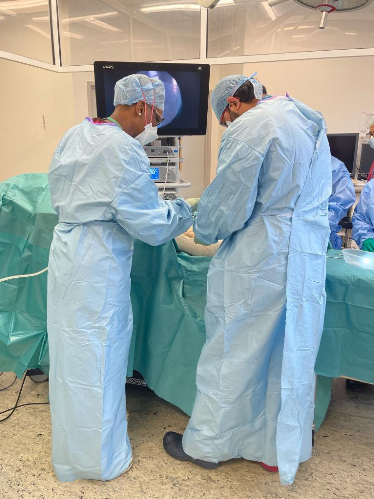 Performing knee arthroscopy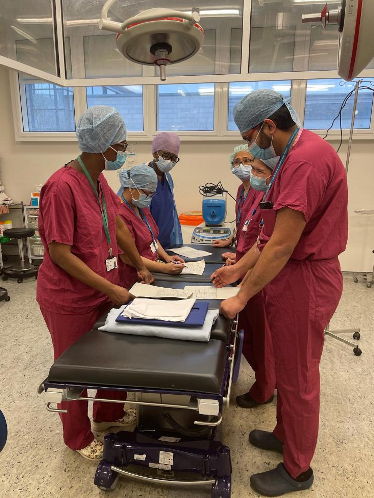 Team brief pre-operation
For any young woman wishing to pursue a career in Orthopaedics, I would greatly encourage it. It is a speciality that offers something for everyone, is constantly evolving and compatible with family life. I would recommend getting involved in surgical societies at your University, which allows you to build networks and exposes you to what the various specialities have to offer. Secure a mentor and don't be afraid of failure or adversity. See them as opportunities to grow. Be relentless in pursuit of your goal but take time to enjoy the journey.
#womeninorthopaedics #wio #sicot #iwd #womeninsurgery
Read more Women in Orthopaedics articles